Veranstaltungskalender / Calendar of Events
Jarracharra: dry season wind by Bábbarra Women's Centre
8 November - 17 December 2021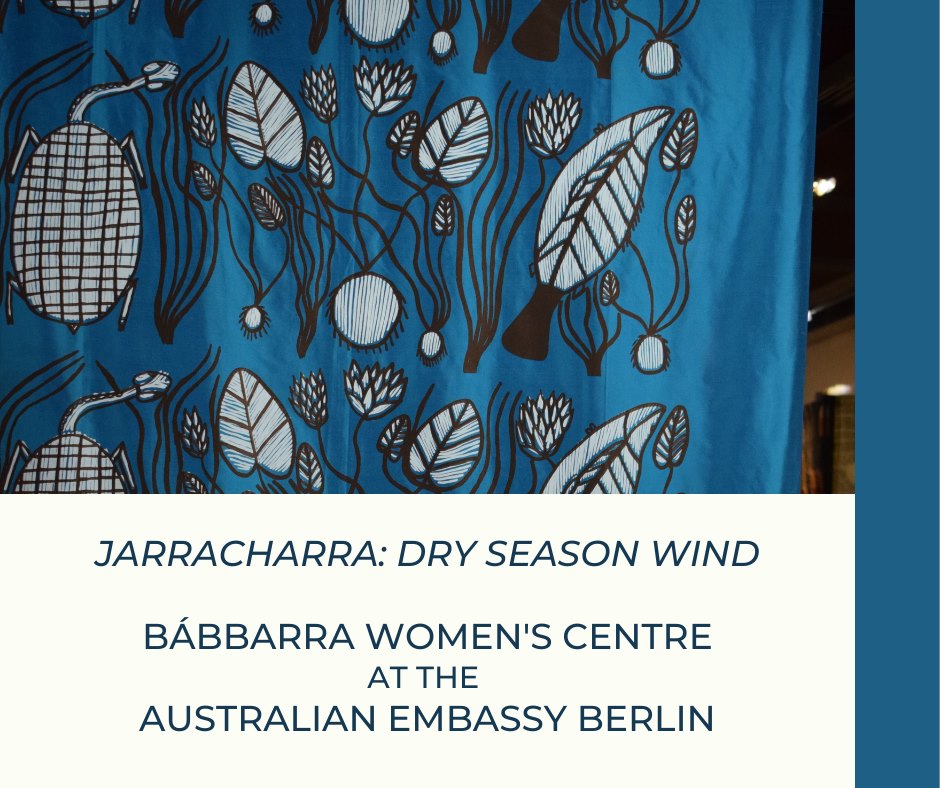 The Australian Embassy Berlin in cooperation with curator Laura Thompson, is pleased to present 'Jarracharra: dry season wind' at the Australian Embassy from 8 November 2021. 'Jarracharra: dry season wind' brings together a selection of textile works from the Bábbarra Women's Centre. Situated in Western Arnhem Land (Northern Territory) the Bábbarra Women's Centre is one of the world's most remote art centres. Directed by women, for women, the centre actively works to give voice to female Indigenous narratives, supporting the artists through women-led projects and enterprises.

The diversity of designs featured in 'Jarracharra: dry season wind' celebrates the richness of culture and story from across Arnhem Land. "Jarracharra" refers to the cool wind that travels through the region each dry season, bringing with it a period of gathering and exchange between community groups.

The Bábbarra Women's Centre supports more than 25 artists, six of whom are represented in 'Jarracharra: dry season wind' at the Australian Embassy in Berlin. The exhibition was initially shown at the Australian Embassy in Paris as part of the 2019 International Year of Indigenous Languages. Twelve distinct languages are spoken at Bábbarra and individually the women speak four to six of these. Around 120 Indigenous languages are still spoken in Australia today.
We welcome visitors to the exhibition between 8 November and 9 December 2021 during Embassy opening times:
Monday - Friday, 9:00 - 17:00.
Following COVID-19 regulations, we ask all visitors to adhere to the 3G rule (showing proof of vaccination, proof of recovery or a negative test result from an official laboratory taken within a 24-hour period) and to wear a FFP2 or a KN95 mask when viewing the exhibition. Children under 6 years of age are exempt.
60th anniversary of Australian-Swiss diplomatic relations
15.09.2021

We are excited to mark 60 years of Australian-Swiss diplomatic relations and to celebrate the strengthening ties between our two countries with a reception in Bern.
Denise Green – How we remember
23.07.–19.09.2021
From July until September the latest exhibition of the Australian-American artist Denise Green opens at H2 - Center for Contemporary Art in the Glaspalast in Augsburg. In 33 new collages, Green explores the theme of coming to terms with traumatic experiences. The starting point for the works is a recently unearthed photo album of her father, who served as a driver in the Australian army during World War.
In Green's work, the personally felt, collective war trauma as well as the focus on her own family coming to terms with the past take place in existential form. The blurring, the clouding, or even the absence of memory is artistically equated with its full functionality. Against this background, How We Remember is less an attempt at a personal résumé of one's own history than, rather and above all, an artistic treatment of it. In a sense, an artistic self-experiment that consciously includes missing parts as 'mistakes'.
Please see here for more information on the exhibition and the artist.

ANZAC Day 2021
25.04.2021
Due to the COVID-19 world in which we currently live, and restrictions regarding movement of people and social gatherings, we sadly will not be proceeding with a public ANZAC Day commemoration in Berlin this year. It would not be responsible to do so especially as these gatherings are often supported by elderly members in the community to whom we all have a special responsibility.
However, the New Zealand and Australia Embassies in Germany will still mark ANZAC Day in 2021.
The New Zealand and Australian Ambassadors will visit the Commonwealth War Grave Commissions' Berlin War
Cemetery on Sunday 25 April and, with quiet solemnity, lay a wreath at the cenotaph, recite the ode, and observe one minute of silence, to mark the occasion on behalf of both our communities. We shall honour our nations' commitment to never forget our fallen and our veterans. Even in these times, we shall remember them.
Please see here the video of Ambassador Green's remarks, the laying of wreaths and more from the Anzac Day 2021 service (on Facebook).

ANZAC DAY 2021
Remarks by H.E. Philip Green, Australian Ambassador to Germany
Commonwealth War Graves, Berlin
25 April 2021
We always said that we would never cease to memorialise the ANZACs. So here we are.
In the midst of a global pandemic, just a handful of us, on a cool morning in Berlin.
The ANZAC tradition is bigger even than the pandemic, though it has reduced our memorial here to this small group.
We remember again the heroism of the Australians and New Zealanders at ANZAC Cove 106 years ago.
We remember those who fought with them that day, as well as those who fought against them, not least those from Germany whom we now number amongst our close partners.
We record again the shocking sacrifice, in numbers that astonish us still - each one a precious life, each one a loved member of a family, a dear friend to many.
And we remember too, on this day, all of those servicemen and women, from all nations, who have fallen in all conflicts.
We pay tribute to their sacrifice. We mourn again with their families. We recommit to never allow their service to be forgotten.
This year, we remember in particular those Aussies and Kiwis who gave service in Afghanistan.
In far away Uruzgan and Bamyan, fighting to keep us safe from terrorism.
As that operation nears its end, we pay special tribute to those 41 Australians and eight New Zealanders who gave their lives. We honour their sacrifice.
ANZAC day 2021 comes at a time when must again confront the reality that the threat of war has not yet been eradicated from human possibility…
… however much the experience of the ANZACs taught us of its horror and futility.
Just days ago, troops were massed on borders not so far from our comfortable homes in Berlin.
And in the waters and the skies of the Indo Pacific, tensions are again rising.
At such a time, it serves us well to remember again the service of the ANZACs of 1915, to learn from their experience, to recall the massive cost of their sacrifice, as well as to honour and thank all of those men and women who serve in our defence forces.
… who protect our peaceful lands. And who give us the confidence to stand up for our freedom.
We look froward on ANZAC Day 2021 to more normal memorials in the years to come, when hundreds can again join this ceremony, and can share together in the fellowship of Australians, New Zealanders and their friends.
Until then, lest we forget.
Please see here the video of Ambassador Green's remarks, the laying of wreaths and more from the Anzac Day 2021 service (on Facebook).
Observing your own ANZAC Day commemoration in Germany
For those that wish to observe your own individual or family ANZAC Day act of commemoration the ode and a traditional prayer of remembrance are included below.
The Ode
They shall grow not old, as we that are left grow old:
Age shall not weary them, nor the years condemn.
At the going down of the sun and in the morning
We will remember them.
A Prayer of Remembrance
Lord God, help us this day to remember the sacrifice of the first ANZACs, Australian and New Zealander, and the generations of men, women and children who have died in the cause of liberty and peace.
Help us to remember those who still bear the physical and mental scars and disabilities of their service.
Help us to remember the widows, girlfriends, parents and orphans and all those who waited in vain for the return of a loved one.
Help us to remember the mateship, agony, courage and compassion of war service, but save us from ever glorifying the horror and tragedy of war.
Lord God, help us to remember.
Amen

We are sure you share with us the hope and determination to gather together to commemorate ANZAC Day in the years ahead.
Australian Ambassador, HE Mr Philip Green
New Zealand Ambassador, HE Mr Rupert Holborow
Strange Flower - Dr Christian Thompson AO I Curation by Laura Thompson, Director Michael Reid Berlin
12.11.2020 - May 2021
The Australian Embassy Berlin in cooperation with Michael Reid Sydney + Berlin is pleased to present Strange Flower, a solo presentation of works by internationally acclaimed Indigenous Australian artist Dr Christian Thompson AO. The virtual exhibition launch coincides with Australia's NAIDOC* Week 2020 (8-13 November), a week to celebrate the history, culture and achievements of Aboriginal and Torres Strait Islander peoples.
Dr Christian Thompson AO is a leading contemporary artist whose work explores notions of identity, cultural hybridity and history. Although Thompson appears in his work, they are not self-portraits. Instead, he uses his body to present ideas about identity, the collision of cultures, and as an expression of his Bidjara (Indigenous Australian) culture.
The exhibition Strange Flower brings together key works from across Thompson's career, including a new 4-panel work Rule of Three (2020), which spans over two meters tall and wide. Additional works on view are from the series King Billy (2010) and We Bury Our Own (2012).
The Australian Embassy Berlin would like to thank Michael Reid Sydney + Berlin for the excellent cooperation on this show which is part of the Embassy's exhibition program.
Learn more about the artist in our digital launch and conversation video between Ambassador Green and Dr Thompson below!
Due to current COVID-19 guidelines, public access to the Embassy is restricted.
We will inform you once it will be possible to view the exhibition in person, please register your interest by sending an email to [email protected].
'From Outback to Orbit: Australia's Space Race'
03.11.2020, 0900 CEST I 1900 AEST
Australian and German space experts came together for an online discussion about our histories and expertise in space research, exploration and technology; our efforts to build a skilled and diverse space workforce, including our approaches to supporting women and girls in science; and existing and future avenues for Australia-Germany cooperation.
Both Australia and Germany have long histories of space exploration and research. Australia was the third country in the world to build and launch a satellite from its own territory, and radio telescopes in Parkes and Canberra were instrumental in supporting the Apollo 11 moon landing. Our cooperation with Germany stretches back to the 1970s, when the German space agency launched rockets from South Australia. Australia now has one of the fastest growing space sectors in the world, with plans to triple the size of the industry by 2030, creating 20,000 jobs and turning it into a $12 billion sector. To achieve this, we need to rapidly scale up international partnerships, increase our national capability and inspire a future workforce.
You can now tune into a podcast of the webinar:
'Creative Networks: Fostering links between Australia and Germany in the Performing Arts'
29.09.2020, 0930 CEST I 1730 AEST
Australia and Germany enjoy strong and diverse cultural links, including in the dynamic performing arts sector. In this inaugural episode of our 'Creative Networks' webinar series, we heard creatives and institutions in dance, theatre and music reflect on how their work landscapes have changed in a COVID-19 environment, and how programming looks in the months ahead. Our panel of experts and artists in the performing arts sector, included: Nora Gatewood-Kurz, Senate Department for Culture and Europe, Berlin, Stefan Schmidtke, Program Director, Theater der Welt, Peter Scollin, Platypus Theater Berlin, Paul White, dancer and choreographer and Melanie Jame Wolf, performance and video artist. The webinar was moderated by Mala Ghedia, filmmaker / actress.

You can access the video recording here.

'Toward a Global Hydrogen Market' - Australian Embassy Berlin and Australian Mission to the EU
14.09.2020, 0930 CEST I 1730 AEST
The Australian Embassy Berlin and the Australian Mission to the EU jointly hosted an Expert webinar: "Toward a Global Hydrogen Market" on Monday, 14 September at 0930 CEST // 1730 AEST.
Our panel of experts included Dr. Alan Finkel, Australia's Chief Scientist and Prof. Dr. Veronika Grimm from Friedrich-Alexander-Universität Erlangen-Nürnberg, who discussed hydrogen's role in the global energy transition, and opportunities for growth and energy cooperation between Australia, Germany and the EU. The panellist discussion was followed by an audience Q&A moderated by Frédéric Simon, News Editor, Euractiv; Introduction by H.E. Lynette Wood, Australian Ambassador to Germany.
You can access the video recording here: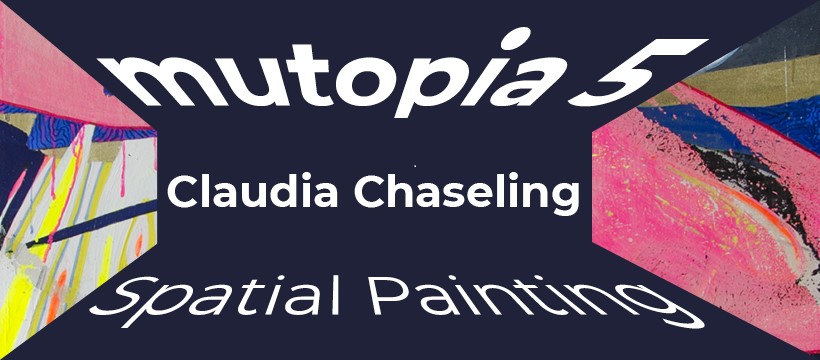 'MUTOPIA 5' – Claudia Chaseling | Spatial Painting
01.07. - 30.10.2020
Curated by Rachel Rits-Volloch and design by Emilio Rapanà of MOMENTUM "mutopia 5" is an exhibition of Spatial Painting featuring 15 works, one of which is a new 9-meter long site-specific painting made for the Australian Embassy Berlin. Ranging in media from painting to watercolour, sculpture and video, this body of work encompasses a decade of German-Australian artist Claudia Chaseling's artistic practice and takes us on a psychedelic journey through the nuclear chain. Read more about the exhibition and join the artist on a virtual tour of her fascinating solo exhibition.
The Australian Embassy Berlin would like to thank Claudia Chaseling and Rachel Rits-Volloch & Emilio Rapanà of MOMENTUM for the excellent cooperation on this show which is part of the Embassy's exhibition program.
The exhibition is on show at the Australian Embassy until 30 October 2020. Due to current COVID-19 guidelines, public access to the Embassy is restricted. We will inform you once it will be possible to view the exhibition in person.
https://www.momentumworldwide.org/exhibitions/mutopia5/

Under the Microscope: Expert webinar on COVID-19 vaccine research
30.06.2020 - webinar
The Australian Embassy Berlin, German Embassy in Canberra, Australian Academy of Science and the AGRN cooperated on an expert webinar discussing German and Australian approaches to developing and delivering a COVID-19 vaccine. The webinar features esteemed panellists, Laureate Prof. Peter Doherty and Prof. Dr. Marylyn Addo, UKE Hamburg.
Learn more about the webinar content here.

. . . . .
Take a look at an overview of our past events below:
24.07 - 22.08.2020: Lucy Dyson - 'As surprising as life' at Michael Reid Gallery, further information here.
05.06. - 19.07.2020: Monica Levy - 'Border Country - Grenzen' at KulturHaus Karlshorst; further information here.
28.05.2020: PLATYPUS THEATER presented their first ever live stream straight from the BKA Theater, Berlin-Kreuzberg
The Clown Who Lost His Circus - Peter Scollin
22.05.-16.08.2020: Sue Hayward - 'The Space Between' at Kunstverein Coburg; further information here.
06.02.20 – 17.04.20: 'Australian Comics – Promoting Culture Through Visual Storytelling', presented by the Australian Embassy Germany in collaboration with IllustrateYourLife Creative Agency and Deutscher Comicverein, featured artworks from 24 outstanding Australian comic book artists.
10.01.2020 - 01.02.20: Michael Reid Berlin presented a group exhibition featuring The Artists of Ampilatwatja
"The Artists of Ampilatwatja community was established in 1999 near Alice Springs in the Northern Territory. The work produced by the artists is recognisably distinct from other Aboriginal artistic communities, due to the application of fine dots and the often bright and figurative depiction of the land."
January: Kat Frankie toured five German cities with 'Bodies'
December: Australian Embassy Foyer Exhibition by Jutta Malnic 'Mwaga, A Bird at the End of the World'
October 2019 - February 2020: The Art of Healing: Australian Indigenous Bush Medicine presented by the Berlin Museum of Medical History at the Charité
October: Siobhan Stagg (Soprano) reprised her signature role Pamina in Deutsche Oper Berlin's production of Die Zauberflöte, conducted by Australian Daniel Carter
September - October: Arndt Art Agency presented the first solo exhibition in Germany by Ben Quilty, one of Australia's most acclaimed living visual artists.
September - October: ZURICH FILM FESTIVAL 2019 presented Australian films BABYTEETH by Shannon Murphy, and STORM BOY by Shawn Seet; Australian screen-legend, CATE BLANCHETT, was also be honoured at the festival, with several screenings of her works scheduled across the festival.
September: Down Under Film Festival 2019 – 'EmBrace Yourself'; The festivals' 9th edition, presened exceptional short and full-length feature films from Australia and New Zealand
September: Human Rights Film Festival Berlin 2019 presented 2040 by Damon Gameau
September: Reeperbahn Festival Hamburg – Australia was the focus country for 2019
September: As part of Reeperbahn Festival 2019, SOUNDS AUSTRALIA presented in Berlin:
THE AUSSIE BBQ Berlin, a free showcase of Australian artists as part of Reeperbahn Festival 2019, featuring:
HANDSOME (Indie Pop/Electronica), WILLIAM CRIGHTON (Folk/Rock), PLANET (90s Indie/Rock), DOBBY (Rap/Hip-Hop), PRESS CLUB (Alternative/Indie) and YOU AM I (Rock)
September : The Internationales Literaturfestival Berlin presented: 'My Life As An Alphabet' and 'A Song Only I Can Hear' by Barry Jonsberg
September: Australian Embassy Berlin Foyer Exhibition Sue Hayward "homesickness and other yearnings"
August: Tanz im August 31st International Festival Berlin (9.-31.08.2019) presented a number of Australian productions
July: Australian Youth Orchestra ion tour in Germany
July: Australian Embassy Berlin Foyer Exhibition Paul Langmead "In the space between our houses'
June: 'THE RAPTURE: Art vs Extinction' – Moira Finucane's Immersive Live Art, Gothic Cabaret, Theatre – German Premiere
May: Brett Dean Composer in Residence at Rundfunk-Sinfonieorchester Berlin performance 'Vexations and Devotions' with the GONDWANA VOICES children's choir, and other works
April: Australian Embassy Foyer Exhibition 'A Thousand Precious Thoughts Miscarried' by Jordan Grant