Veranstaltungskalender / Calendar of Events
'From Outback to Orbit: Australia's Space Race'
03.11.2020, 0900 CEST I 1900 AEST
Join Australian and German space experts for an online discussion about our histories and expertise in space research, exploration and technology; our efforts to build a skilled and diverse space workforce, including our approaches to supporting women and girls in science; and existing and future avenues for Australia-Germany cooperation.

Both Australia and Germany have long histories of space exploration and research. Australia was the third country in the world to build and launch a satellite from its own territory, and radio telescopes in Parkes and Canberra were instrumental in supporting the Apollo 11 moon landing. Our cooperation with Germany stretches back to the 1970s, when the German space agency launched rockets from South Australia. Australia now has one of the fastest growing space sectors in the world, with plans to triple the size of the industry by 2030, creating 20,000 jobs and turning it into a $12 billion sector. To achieve this, we need to rapidly scale up international partnerships, increase our national capability and inspire a future workforce.
You can register for the event here.
Australia at Falling Walls x Berlin Science Week
09.11. 2020, 13.00 - 15.00 CET
The Falling Wall Conference, which was first held on the anniversary of the fall of the Berlin Wall in 2009, aims to breakdown walls and barrieres in the ways we think and act. Every year on 9 November, some of the most prominent researchers and scientists are invited to Berlin to present their breakthroughs in science and provide solutions for gloabal challenges. Each participant presents their research for 15 minutes in a way that is easy to understand for both experts and anyone interested in science. In 2019, Australian researcher Rhys Pirie won the 2019 Young Innovator of the Year Award and 2020 looks like another promising year for Australians with more than ten Australian researchers making it into the final.

Make sure to watch the finals of this prestigious competition online and check out some of the many Australian contributions below:

'Creative Networks: Fostering links between Australia and Germany in the Performing Arts'
29.09.2020, 0930 CEST I 1730 AEST
Australia and Germany enjoy strong and diverse cultural links, including in the dynamic performing arts sector. In this inaugural episode of our 'Creative Networks' webinar series, we heard creatives and institutions in dance, theatre and music reflect on how their work landscapes have changed in a COVID-19 environment, and how programming looks in the months ahead. Our panel of experts and artists in the performing arts sector, included: Nora Gatewood-Kurz, Senate Department for Culture and Europe, Berlin, Stefan Schmidtke, Program Director, Theater der Welt, Peter Scollin, Platypus Theater Berlin, Paul White, dancer and choreographer and Melanie Jame Wolf, performance and video artist. The webinar was moderated by Mala Ghedia, filmmaker / actress.

You can access the video recording here.

'Toward a Global Hydrogen Market' - Australian Embassy Berlin and Australian Mission to the EU
14.09.2020, 0930 CEST I 1730 AEST
The Australian Embassy Berlin and the Australian Mission to the EU will jointly host an Expert Webinar: "Toward a Global Hydrogen Market" on Monday, 14 September at 0930 CEST // 1730 AEST.
Our panel of experts includes Dr. Alan Finkel, Australia's Chief Scientist and Prof. Dr. Veronika Grimm from Friedrich-Alexander-Universität Erlangen-Nürnberg, who will discuss hydrogen's role in the global energy transition, and opportunities for growth and energy cooperation between Australia, Germany and the EU. The panellist discussion will be followed by an audience Q&A moderated by Frédéric Simon, News Editor, Euractiv; Introduction by H.E. Lynette Wood, Australian Ambassador to Germany.
You can access the video recording here.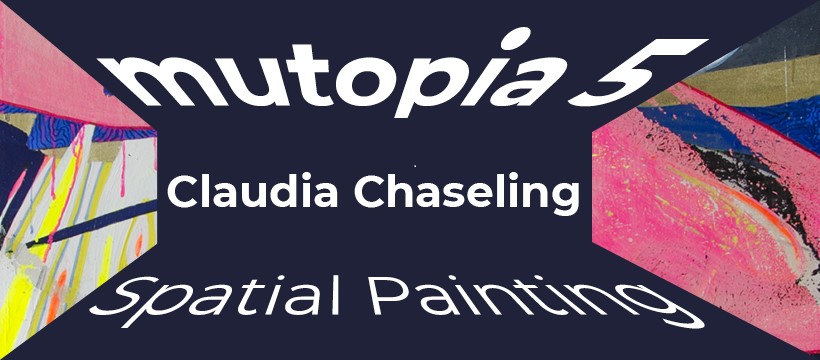 'MUTOPIA 5' – Claudia Chaseling | Spatial Painting
01.07.2020 - ongoing
Curated by Rachel Rits-Volloch and design by Emilio Rapanà of MOMENTUM "mutopia 5" is an exhibition of Spatial Painting featuring 15 works, one of which is a new 9-meter long site-specific painting made for the Australian Embassy Berlin. Ranging in media from painting to watercolour, sculpture and video, this body of work encompasses a decade of German-Australian artist Claudia Chaseling's artistic practice and takes us on a psychedelic journey through the nuclear chain. Read more about the exhibition and join the artist on a virtual tour of her fascinating solo exhibition.
The Australian Embassy Berlin would like to thank Claudia Chaseling and Rachel Rits-Volloch & Emilio Rapanà of MOMENTUM for the excellent cooperation on this show which is part of the Embassy's exhibition program.
The exhibition is on show at the Australian Embassy until 30 October 2020. Due to current COVID-19 guidelines, public access to the Embassy is restricted. We will inform you once it will be possible to view the exhibition in person.
https://www.momentumworldwide.org/exhibitions/mutopia5/

Under the Microscope: Expert webinar on COVID-19 vaccine research
30.06.2020 - webinar
The Australian Embassy Berlin, German Embassy in Canberra, Australian Academy of Science and the AGRN cooperated on an expert webinar discussing German and Australian approaches to developing and delivering a COVID-19 vaccine. The webinar features esteemed panellists, Laureate Prof. Peter Doherty and Prof. Dr. Marylyn Addo, UKE Hamburg.
Learn more about the webinar content here.

. . . . .
Take a look at an overview of our past events below:
24.07 - 22.08.2020: Lucy Dyson - 'As surprising as life' at Michael Reid Gallery, further information here.
05.06. - 19.07.2020: Monica Levy - 'Border Country - Grenzen' at KulturHaus Karlshorst; further information here.
28.05.2020: PLATYPUS THEATER presented their first ever live stream straight from the BKA Theater, Berlin-Kreuzberg
The Clown Who Lost His Circus - Peter Scollin
22.05.-16.08.2020: Sue Hayward - 'The Space Between' at Kunstverein Coburg; further information here.
06.02.20 – 17.04.20: 'Australian Comics – Promoting Culture Through Visual Storytelling', presented by the Australian Embassy Germany in collaboration with IllustrateYourLife Creative Agency and Deutscher Comicverein, featured artworks from 24 outstanding Australian comic book artists.
10.01.2020 - 01.02.20: Michael Reid Berlin presented a group exhibition featuring The Artists of Ampilatwatja
"The Artists of Ampilatwatja community was established in 1999 near Alice Springs in the Northern Territory. The work produced by the artists is recognisably distinct from other Aboriginal artistic communities, due to the application of fine dots and the often bright and figurative depiction of the land."
January: Kat Frankie toured five German cities with 'Bodies'
December: Australian Embassy Foyer Exhibition by Jutta Malnic 'Mwaga, A Bird at the End of the World'
October 2019 - February 2020: The Art of Healing: Australian Indigenous Bush Medicine presented by the Berlin Museum of Medical History at the Charité
October: Siobhan Stagg (Soprano) reprised her signature role Pamina in Deutsche Oper Berlin's production of Die Zauberflöte, conducted by Australian Daniel Carter
September - October: Arndt Art Agency presented the first solo exhibition in Germany by Ben Quilty, one of Australia's most acclaimed living visual artists.
September - October: ZURICH FILM FESTIVAL 2019 presented Australian films BABYTEETH by Shannon Murphy, and STORM BOY by Shawn Seet; Australian screen-legend, CATE BLANCHETT, was also be honoured at the festival, with several screenings of her works scheduled across the festival.
September: Down Under Film Festival 2019 – 'EmBrace Yourself'; The festivals' 9th edition, presened exceptional short and full-length feature films from Australia and New Zealand
September: Human Rights Film Festival Berlin 2019 presented 2040 by Damon Gameau
September: Reeperbahn Festival Hamburg – Australia was the focus country for 2019
September: As part of Reeperbahn Festival 2019, SOUNDS AUSTRALIA presented in Berlin:
THE AUSSIE BBQ Berlin, a free showcase of Australian artists as part of Reeperbahn Festival 2019, featuring:
HANDSOME (Indie Pop/Electronica), WILLIAM CRIGHTON (Folk/Rock), PLANET (90s Indie/Rock), DOBBY (Rap/Hip-Hop), PRESS CLUB (Alternative/Indie) and YOU AM I (Rock)
September : The Internationales Literaturfestival Berlin presented: 'My Life As An Alphabet' and 'A Song Only I Can Hear' by Barry Jonsberg
September: Australian Embassy Berlin Foyer Exhibition Sue Hayward "homesickness and other yearnings"
August: Tanz im August 31st International Festival Berlin (9.-31.08.2019) presented a number of Australian productions
July: Australian Youth Orchestra ion tour in Germany
July: Australian Embassy Berlin Foyer Exhibition Paul Langmead "In the space between our houses'
June: 'THE RAPTURE: Art vs Extinction' – Moira Finucane's Immersive Live Art, Gothic Cabaret, Theatre – German Premiere
May: Brett Dean Composer in Residence at Rundfunk-Sinfonieorchester Berlin performance 'Vexations and Devotions' with the GONDWANA VOICES children's choir, and other works
April: Australian Embassy Foyer Exhibition 'A Thousand Precious Thoughts Miscarried' by Jordan Grant