70 years of Australian-German diplomatic relations

In 2022, Australia and Germany are celebrating 70 years of diplomatic relationship and we are looking back on outstanding years of political, scientific, economic, and cultural exchange.
Germany is an important and close, like-minded partner for Australia. As two liberal democracies, we share a strong commitment to the rules of the international order and a multilateral system. We work closely together both bilaterally and multilaterally to support and uphold our shared values of democracy, freedom and the rule of law. With the 'Enhanced Strategic Partnership', which both countries signed in 2021, we are further expanding our close friendship on many levels.
Australia and Germany have strong research ties and address global challenges together. In 2018, in partnership with the German Embassy in Canberra, we founded the 'Australia-Germany Research Network', which brings together German and Australian scientists.
In 2020, the hydrogen project 'HySupply' set a new milestone in the energy sector between Australia and Germany. In June 2021, the two countries announced the Hydrogen Accord - a forward-looking initiative to deepen cooperation in addressing climate change and reducing emissions.
Arts and culture plays a special role in the Australian-German relationship. The Australian cultural landscape in Europe is thriving and expanding. Strengthening the presence of Australian arts, dance, theatre and music organizations in Germany is also a focus of our Embassy in Berlin.
Follow our weekly posts with highlights of the last decades of the Australian-German success story on our social media channels under #AUSGER70 and share your personal experiences with us!
Marking 70 years of Shipping the Sunshine
2022 is a milestone year for Australia and Germany, which was marked by the Australian Embassy in Berlin on Tuesday, 15 March 2022, with a reception on the occasion of 70 years of diplomatic relations between Australia and Germany.
Themed 'Shipping the sunshine', the breakfast reception featured Australian food, coffees from Australian café Tinman and contemporary music. It focused on looking into the future of the Australian-German partnership and highlighted the close hydrogen collaborations that connect both countries.
'Australia has been shipping its sunshine to Germany for 70 years – through our food, wine, arts and culture and of course the actual sunshine Germans have experienced when travelling to Australia,' said Australia's Ambassador to Germany, Philip Green.
'With our Hydrogen Accord and a joint hydrogen feasibility study, Australia and Germany are entering an exciting new phase of collaboration as we are looking to ship our actual sunshine in the form of green hydrogen to Germany. I was delighted to celebrate this partnership and mark our deep connections with Germany together with Minister of State Dr. Lindner on Tuesday', the Ambassador said.
The Australian Ambassador also used the occasion to underscore Australia's condemnation of Russia's invasion of Ukraine and urged guests to join him in supporting the German Red Cross's appeal for Ukraine.
Further information on the Australia Germany Hydrogen partnership can be found here: Hydrogen: the energy resource of the future (embassy.gov.au)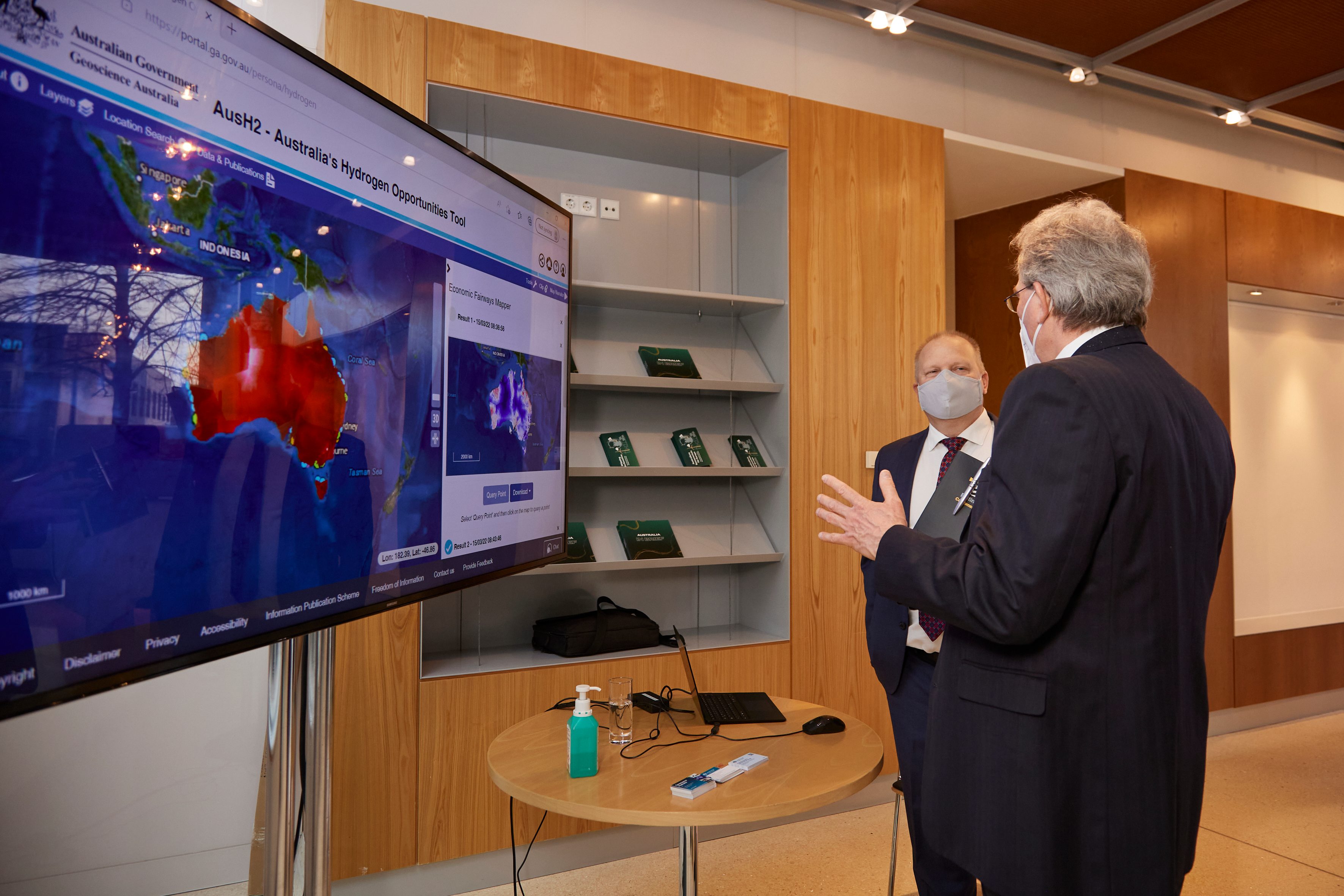 Pictures, top: Ambassador Green with guest speaker Minister of State Dr Lindner and Fortescue representative Todd Clewett. Right: Ambassador Green with representative of Australian states at the event. Left: Geoscience australia giving insights into the wealth of natural resources in Australia.
Please do not hesitate to contact us to find more information about our work on this website
General/economic
Doing business with Australia