The global energy sector is transforming, and the way we produce, move, store and use energy is changing quickly. Australia and Germany are natural partners leading the way towards the development of hydrogen as a future energy resource.

Find out about Australian-German hydrogen cooperation in our digital hydrogen pamphlet: learn more here.

Australia's hydrogen potential
Australia's National Hydrogen Strategy outlines the vast potential for Australia to be a world-leading producer of clean hydrogen. Our goal is 'H2 under 2' – that is to produce hydrogen at a cost of below A$2/kg.
Australia:
is large - Geoscience Australia has identified 873,000 km2 of land suitable for renewable hydrogen production in Australia. That's 2.5 times the size of Germany.
has enormous solar capabilities, receiving 58 million petajoules of sunshine annually – that's about 9,500 times more energy than the country uses
has good quality wind resources
an ecosystem of scientists, businesspeople and government with deep skills in renewable energy and developing energy export industries.
Solar energy alone in the most prospective regions in Australia covering about 3% of the country's surface area could be enough to produce more than 600mt of green hydrogen annually. That is more than 10 times Germany's non-electric energy consumption.
Average daily sunlight hours Australia also has strong wind resources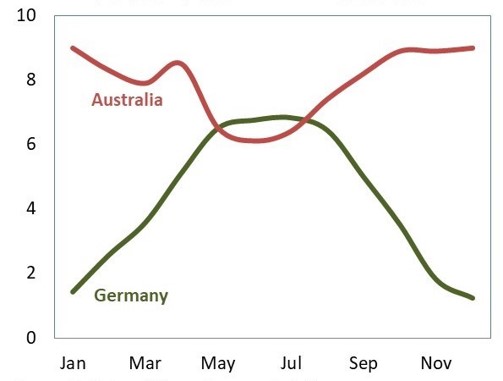 source: Statista, eglitis-media, own calculations source: Global Wind Atlas
Germany's technological expertise and future demand
For Germany to reach its energy transition goals, experts agree it will require vast amounts of clean and – in the long term – green hydrogen. Estimates of future demand vary, but it is likely to substantially exceed Germany's green hydrogen production capacity.
Germany's expected demand (beige) vs. production (grey) of green hydrogen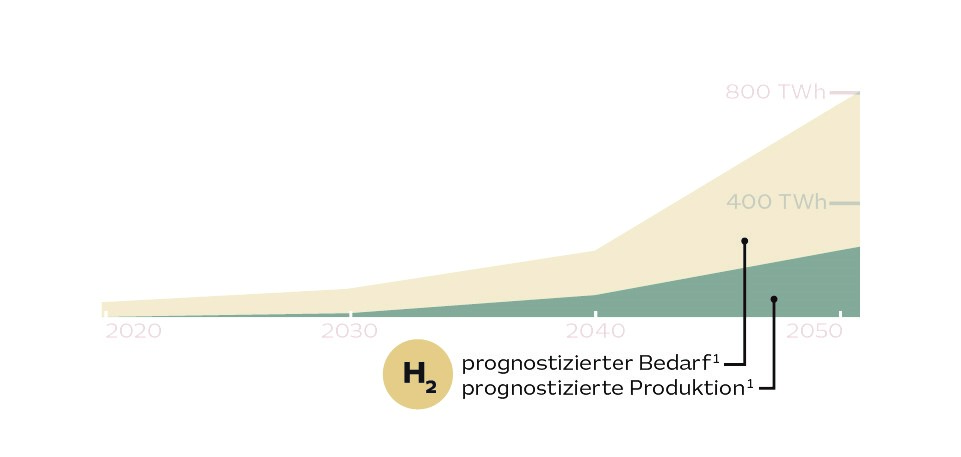 Meanwhile, German companies and research institutes are world-leaders in the development of green hydrogen production, processing and storage technology, on which any future hydrogen industry will depend.
1: Source Fraunhofer Institute, German hydrogen strategy, own calculations.
Australia and Germany join forces on hydrogen: Australia-Germany Hydrogen Accord
In June 2021 Australian Prime Minister Scott Morrison and German Chancellor Angela Merkel announced the Australia-Germany Hydrogen Accord – a forward-leaning initiative to deepen our collaboration on climate change action and emissions reduction. The initiative's ambition is to produce the cheapest green hydrogen in the world, which will transform entire industries, such as transport, mining, resources and manufacturing
Our enhanced collaborative activities focus on technological innovation, research, development and deployment and will lay the groundworks for a global hydrogen industry.
Our Hydrogen Accord underscores both countries' commitment to the Paris Agreement and highlights the importance of accelerating zero and low emissions technology solutions to achieve cost parity with conventional alternatives as soon as possible. At the same time, it plays to both countries' strengths based on Australia's hydrogen production potential and Germany's technological expertise and expected strong future demand.
Under the Accord the responsible ministers Angus Taylor, Australian Minister for Energy and Emissions Reduction, Peter Altmaier, German Federal Minister for Economic Affairs and Energy, and Anja Karliczek, German Federal Minister for Education and Research decided to pursue three new initiatives:
HyGate Initiative: The Hydrogen Innovation and Technology Incubator will deliver novel, real-world pilot, trial, demonstration, and research projects along the hydrogen supply chain for hydrogen produced from renewable sources.
Collaboration in Australian Hydrogen Hubs: The Hubs, which are selected regions where hydrogen users and exporters are co-located to reduce costs and share information, will help the industry to stimulate demand and achieve the scale needed to achieve the Technology Investment Roadmap goal of producing hydrogen at under $2 a kilogram, the price at which hydrogen becomes competitive with higher emissions alternatives.
Facilitating trade of hydrogen between Australia and Germany: Building on Germany's €900 million H2Global scheme, a mechanism that will support the international market ramp up of green hydrogen by stimulating hydrogen exports to Germany, Australia and Germany will explore options to facilitate export of hydrogen produced from renewables from Australia to Germany.
Find the Australian and the German government announcements here.
The Accord builds on Australia's existing collaboration with Germany: our HySupplyproject is a feasibility study exploring opportunities for a green hydrogen supply chain from Australia to Germany. Learn more below!
HySupply: Our joint Australian-German Hydrogen feasibility study
Recognising their complementary strengths, Australia and Germany have established a joint feasibility study to examine all aspects of a renewable hydrogen supply chain stretching from Australia to Germany. The HySupply project will explore the potential for:
production in Australia,
transport via a safe, secure and affordable shipping route,
storage and conversion and
use of renewable hydrogen in Germany.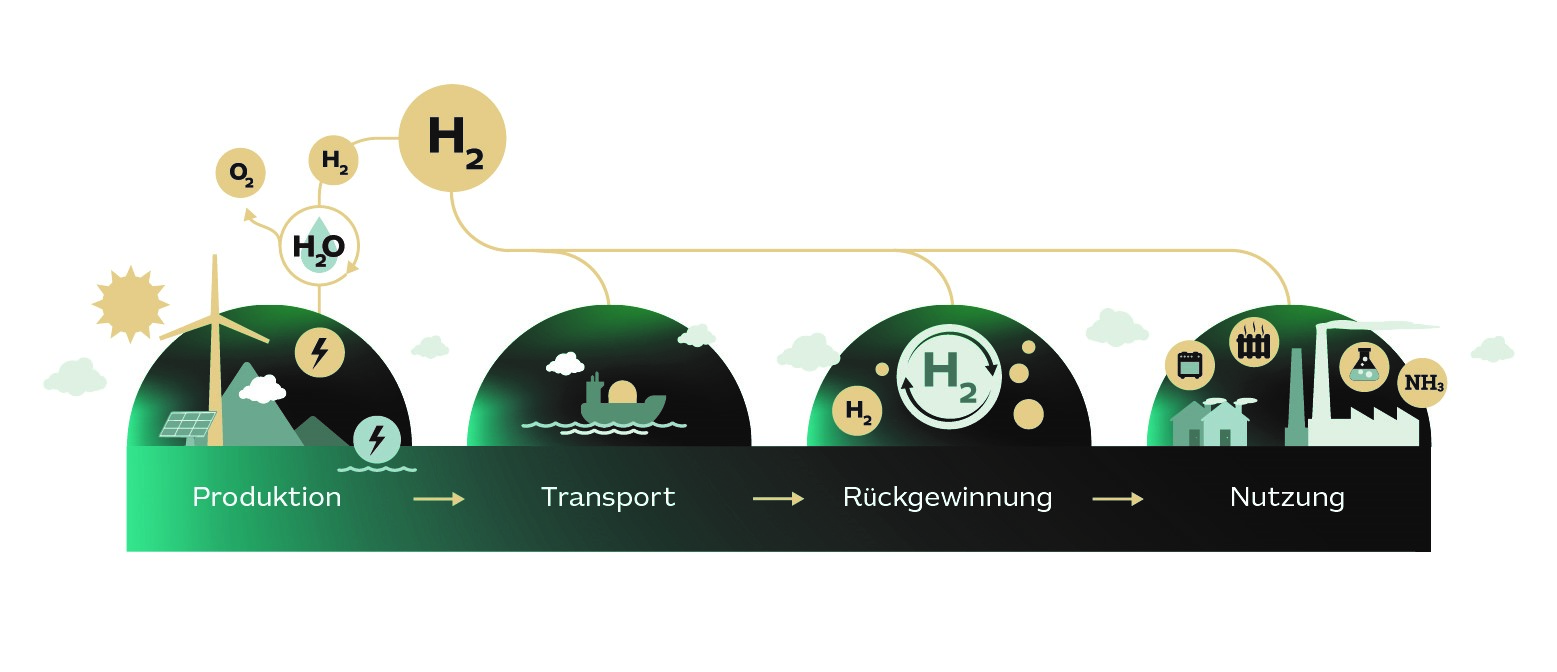 Find all details on the feasibility study here.
The project is led by industry with support from both the Australian and German government. The Federation of German Industries (BDI) and the German Academy for Science and Engineering (acatech) on the German side, and the University of New South Wales (UNSW) on the Australian side, have assembled leading industry, academic and research partners.
Over a two-year period, project partners will identify the prospects and address the challenges of a bilateral supply chain. Developing a supply chain of this sort is not simple, and there are many complex technical, logistical and regulatory matters to settle.
While a final feasibility study is expected toward the end of 2022, project partners will identify early pilots and test projects for industry to invest in the short-term. Follow news of the project at @AusAmdDE or check in regularly below.
HySupply news and resources
Other resources
Why is hydrogen the energy resource of the future? Learn more about Australia's National Hydrogen Strategy here or subscribe to the Australian Hydrogen News. You can find more insights on Australian hydrogen project on the CSIRO website as well as Australia's Hydrogen Council pages.
Catch up on the expert webinar 'Toward a Global Hydrogen Market' hosted by the Australian Embassy Berlin and the Australian Mission to the EU in September 2020. Hear Australian, German and EU experts discuss the opportunities for the three jurisdictions to work together to shape a future hydrogen market and make this clean energy carrier a reality. Panellists included:
Then Australian Chief Scientist Dr Alan Finkel
Chair of Economic Theory, Friedrich Alexander University, Prof Dr Veronika Grimm (@GrimmVeronika)
Head of Renewables and CCS policy, DG Energy, Ms Paula Abreu Marques (@AbreuMPa)
President of Hydrogen Europe and Hydrogen Ecosystem Director, Michelin, Ms Valérie Bouillon-Delporte (@vbouillon)
Deputy Director-General for Energy and Climate Policy, German Federal Foreign Office, Dr Hinrich Thölken (@GERClimatEnergy)
News Editor at EURACTIV, Mr Frédéric Simon (@FredSimonEU)
You can now watch the discussion online:
In Australia, we are neutral with regards to the type of technology used to produce hydrogen. We use the term clean hydrogen, which we define as either hydrogen produced using renewable energy or using fossil fuels with substantial carbon capture and storage (CCS).
To ensure low levels of carbon emissions, capture rates of 90% will likely be required. These rates are technically feasible.
We are working on the development of hydrogen certification to assess the CO2 intensity of each unit of hydrogen produced. Through the National Hydrogen Strategy, Australia has committed to take a lead role in the development of an international scheme, with a view that ideally, any Australian domestic scheme would build on, or harmonise with, international certification schemes.
The Strategy proposes an initial scheme to track key hydrogen production attributes, including:
country of origin
production technology
carbon emissions from production.
The International Partnership for Hydrogen and Fuel Cells in the Economy (IPHE) is working on developing an internationally agreed methodology to assess the emissions from the production of a unit of hydrogen, and Australia is actively participating in this process.