Welcome to the Australian Embassy, Berlin

Australia has a warm and significant bilateral relationship with Germany. We have wide-ranging dialogue and cooperation with Germany, which ranks among Australia's leading trading partners. We have a strong and expanding investment relationship. Germany is a major source of foreign direct investment in Australia and one of Australia's largest investment destinations.
Germany has been a significant source of migrants to Australia. Germans and Australians have wide-ranging interest in each other's culture. Australia is one of the most popular overseas destinations for German tourists and students. The Government is keen to expand existing links with Germany, including in traditional and new commercial spheres.
_______________________________________________________________________________________
At a function celebrating Australia Day at the Embassy on 26 January, Ambassador Lynette Wood launched the
Australia now Germany 2017
program. Germany has been selected as this year's focus country for a wide-ranging program of activities which will showcase Australia's creativity, diversity and innovation across a broad spectrum of the arts, including dance, theatre, music, and visual arts, as well as science, technology and sports.
For further details, please see
www.australianow2017.de
Australia's Chief Scientist visiting Germany
Australia's Chief Scientist, Dr Alan Finkel, will be on a visit to Germany 24-26 April. In Berlin, he will i.a. participate in a discussion forum with Professor Schellnhuber of the Potsdam Institute for Climate Impact Research.
Delegation of Indigenous community representatives in Berlin for repatriation of ancestral remains
A delegation of representatives of Indigenous Australian communities arrived in Berlin on 21 March 2017 for a repatriation of ancestral remains from a number of German institutions. A formal ceremony will be held on 23 March 2017 at the Australian Embassy.
Deputy Prime Minister and Minister for Agriculture and Water Resources in Germany for G20 Ministerial Meeting
The Australian Deputy Prime Minister and Minister for Agriculture and Water Resources, the Hon. Barnaby Joyce MP, arrived in Berlin on 19 January for a 4-day visit to attend the G20 Agriculture Ministers' meeting in Berlin as a part of Australia's push to strengthen agriculture exports and build new and stronger trading partnerships. Minister Joyce also chaired a Ministerial session on water access at the 9th Berlin Agricultural Ministers' Conference and took part in the Global Forum on Food and Agriculture (see also: Australia puts its case at G20 Meeting on Water and Food Security​).
Fifth Australian Landing Pad finds a home in Berlin
Berlin's Betahaus house will be the home of Australia's fifth Landing Pad – a place for Aussie entrepreneurs to launch their startup to the world. With this final Landing Pad established, Australian startups now have the opportunity to access investment capital, networks, mentors and ideas in five key locations across the globe, from San Francisco to Shanghai, Singapore, Tel Aviv and now Berlin.
Inaugural German-Australian 2+2 Ministerial Meeting in Berlin
The Australia-Germany 2+2 Ministerial Meeting, which convened in Berlin on 6 Sept 2016, marks a significant milestone in the bilateral relationship. With the first 2+2 meeting between our countries, Germany and Australia take their Strategic Partnership of the 2013 Berlin-Canberra Declaration to a new level, also building on the work of the Australian-German Advisory Group.
Foreign Minister Julie Bishop and Defence Minister Marise Payne were first officially welcomed by their German counterparts, Ministers Frank-Walter Steinmeier and Ursula von der Leyen, at the German Defence Ministry and then met for their consultation at the German Foreign Office Guest House Villa Borsig (pictures below).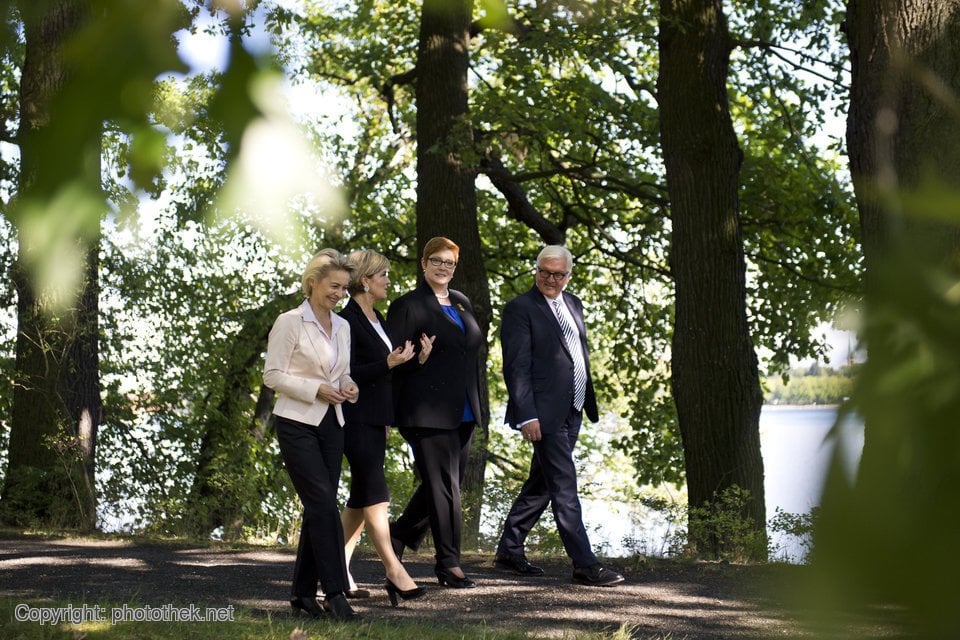 Celebration of Australia in Germany
The Australian Government will host Australia now, a major celebration of Australia's creativity and innovation, in Germany in 2017. Foreign Minister Julie Bishop (pictured below) announced the program on 6 September at a reception held at the Australian Embassy in Berlin.
You studied in Australia? Register with us!
Our Alumni program brings together and supports the interests of Alumni from Australian universities and other institutions of higher education in Australia. If you live in Germany and would like to be invited to future Alumni or other Embassy events, please fill out our
Alumni Registration Form
and send it to
info.berlin@dfat.gov.au
.
Australian German Association (AGA)-Goethe Fellowship 2017
Could you be the next winner of the 2017 AGA-Goethe Fellowship? Win reimbursement of a return economy airfare from Australia to Germany and $6,000 allowance to facilitate travel throughout Germany for your Project. Applications are open now. Check out the selection criteria and rules at: http://www.aga.org.au/fellowship/selection-criteria/

Current News
For latest news available from the Department of Foreign Affairs and Trade, please see www.dfat.gov.au