Welcome to the Australian Embassy, Berlin
Minister Robb Signs historic Trans Pacific Trade Pact (TPP) in New Zealand
The historic Trans Pacific Partnership Agreement (TPP) – which will see the elimination of 98 per cent of tariffs among 12 countries – was formally signed on 4 February in New Zealand by the Minister for Trade and Investment Andrew Robb. The TPP is the world's most significant trade and investment agreement finalised in more than two decades with member countries accounting for around 40 per cent of global GDP.
Australia Day 2016: Australians of the Year announced
Nicholas Milton, Chief Conductor of the Canberra Symphony Orchestra and General Music Director of the Saarländisches Staatstheater, also a member of the Australia-Germany Advisory Group, has been awarded an honour in the Order of Australia in the 2016 Australia Day honours list announced on 26 January 2016. (Please also see the Ambassador's remarks at australia-in-berlin.com/2016/01/28/australia-day-2016/).
Ambassador David Ritchie AO speaking on Australia Day 2016 at the Australian Embassy in Berlin, with the national anthem, Advance Australia Fair, sung by the G.A.N.Z. Ensemble featuring Annabelle Kemish
Australia EU Free Trade Agreement - Submissions
The Department of Foreign Affairs and Trade (DFAT) welcomes submissions from interested individuals and groups on the potential opportunities and impacts of a Free Trade Agreement (FTA) with the European Union (EU) (by 26 February 2016).
Australia-Germany Advisory Group Report Release
The Australia-Germany Advisory Group, established in 2014 to examine ways to build even closer ties between the two countries, presented its report to Prime Minister Turnbull and Chancellor Merkel in Berlin on 13 November 2015. It contains 59 recommendations across five themes, providing a blueprint to take the already strong bilateral partnership to a new level.
The presentation was followed by a joint press conference by the Prime Minister and the Chancellor (pictures showing the Prime Minister welcomed by the Chancellor; the presentation of the Advisory Group Report by the co-chairs, Finance Minister Cormann and State Minister Professor Böhmer, and members Ms Turnbull and Mr Klein; and the Prime Minister and the Chancellor addressing the media).


New bilateral tax treaty signed
Australia and Germany on 12 November signed a new 21st century tax treaty, which will reduce tax impediments to increase bilateral trade and investment and improve the integrity of the tax system (picture showing Australian Finance Minister Mathias Cormann with his German counterpart Wolfgang Schäuble, with State Minister Professor Maria Böhmer looking on // photo: Jörg Rüger / BMF).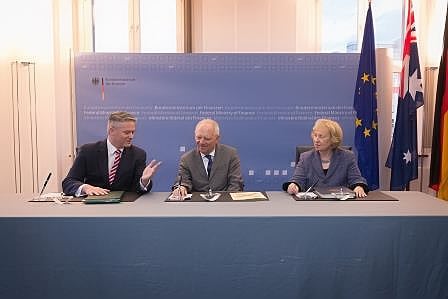 ---
Offical blog of the Australian Ambassador to Germany
Australia has a warm and significant bilateral relationship with Germany. We have wide-ranging dialogue and cooperation with Germany, which ranks among Australia\'s leading trading partners. We have a strong and expanding investment relationship. Germany is a major source of foreign direct investment in Australia and one of Australia\'s largest investment destinations.
Germany has been a significant source of migrants to Australia. Germans and Australians have wide-ranging interest in each other\'s culture. Australia is one of the most popular overseas destinations for German tourists and students. The Government is keen to expand existing links with Germany, including in traditional and new commercial spheres.
H.E. Ambassador David Ritchie AO speaking on the occasion of Australia Day 2015
Follow Ambassador Ritchie\'s blog at www.australia-in-berlin.com
You studied in Australia? Register with us!
Our Alumni program brings together and supports the interests of Alumni from Australian universities and other institutions of higher education in Australia. If you live in Germany and would like to be invited to future Alumni or other Embassy events, please fill out our Alumni Registration Form and send it to info.berlin@dfat.gov.au.
---
Second joint meeting of Australia Germany Advisory Group in Canberra
The second joint meeting of the bilateral Advisory Group has now been held in Canberra (23 Oct) for discussion of the final report which is expected to be presented to the government leaders before the end of this year.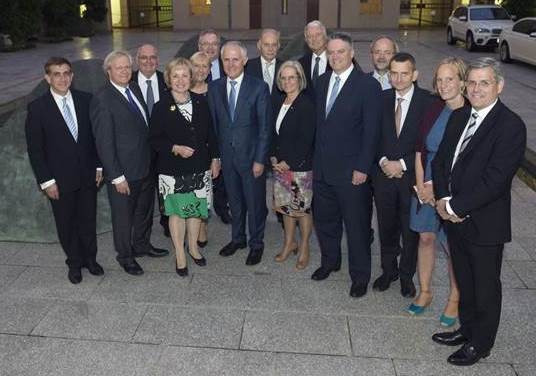 Prime Minister Malcolm Turnbull (centre) with German Minister of State Professor Maria Böhmer and her Australian Advisory Group co-chair, Finance Minister Mathias Cormann in Canberra; and the Prime Minister joining the full Group
First joint meeting of bilateral Advisory Group in Berlin
The Australia-Germany Advisory Group / the Deutsch-Australische Beratergruppe established by Prime Minister Tony Abbott and Chancellor Angela Merkel had its first joint meeting on 10 July in Berlin, chaired by the Minister for Finance, Senator Mathias Cormann, and the Minister of State in the German Foreign Office, Professor Maria Böhmer.
On his visit to Berlin, Minister Cormann had been accompanied by a substantial Australian business delegation, and he gave a key address on Australian-German bilateral relations at the Konrad Adenauer Foundation.
The Australia-Germany Advisory Group with Federal Chancellor Angela Merkel
Visiting Berlin: Finance Minister Mathias Cormann and the President of the German-Australian Chamber of Industry and Commerce, Ms Lucy Turnbull AO.
100th Anniversary of ANZAC
To commemorate the 100th anniversary of the landing of the Australian and New Zealand Army Corps (ANZAC) on the Gallipoli Peninsula the Embassies of Australia and New Zealand held a Service of Remembrance on 25 April 2015 at the Commonwealth War Graves Commission (CWGC) World War One Cemetery on the grounds of the Südwestkirchhof (South Western Cemetery) in Stahnsdorf.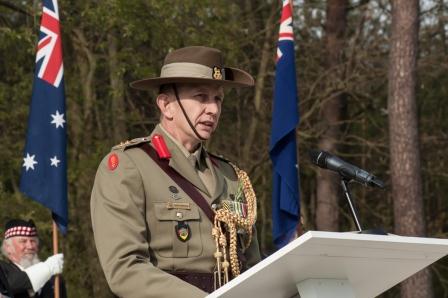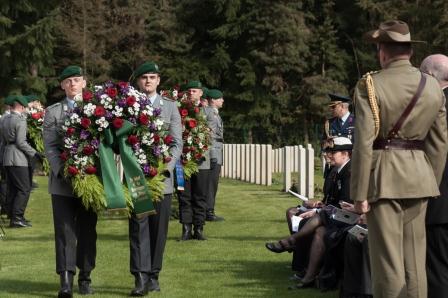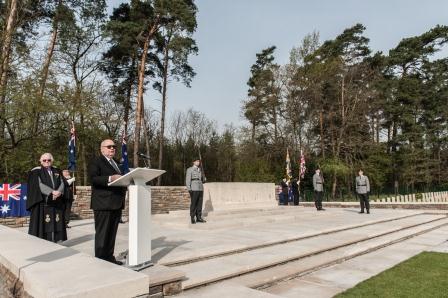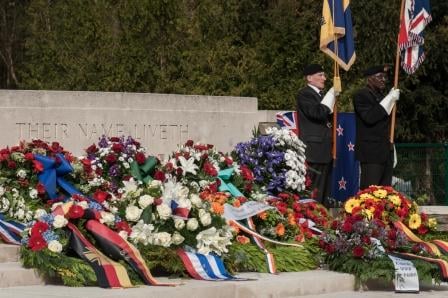 Impressions from the ANZAC Day ceremony in Stahnsdorf
---
Foreign Minister Julie Bishop in Berlin
Australia\'s Foreign Minister, Ms Julie Bishop MP, visited Berlin on 21-22 April 2015 for talks with her German counterpart, Frank-Walter Steinmeier, to discuss the foreign fighter threat and the evolving security situation in the Middle East and eastern Ukraine. She also met Minister of State Maria Böhmer to discuss the work of the newly-established Australia-Germany Advisory Group and Dr Böhmer's role as Chair of the UNESCO World Heritage Committee.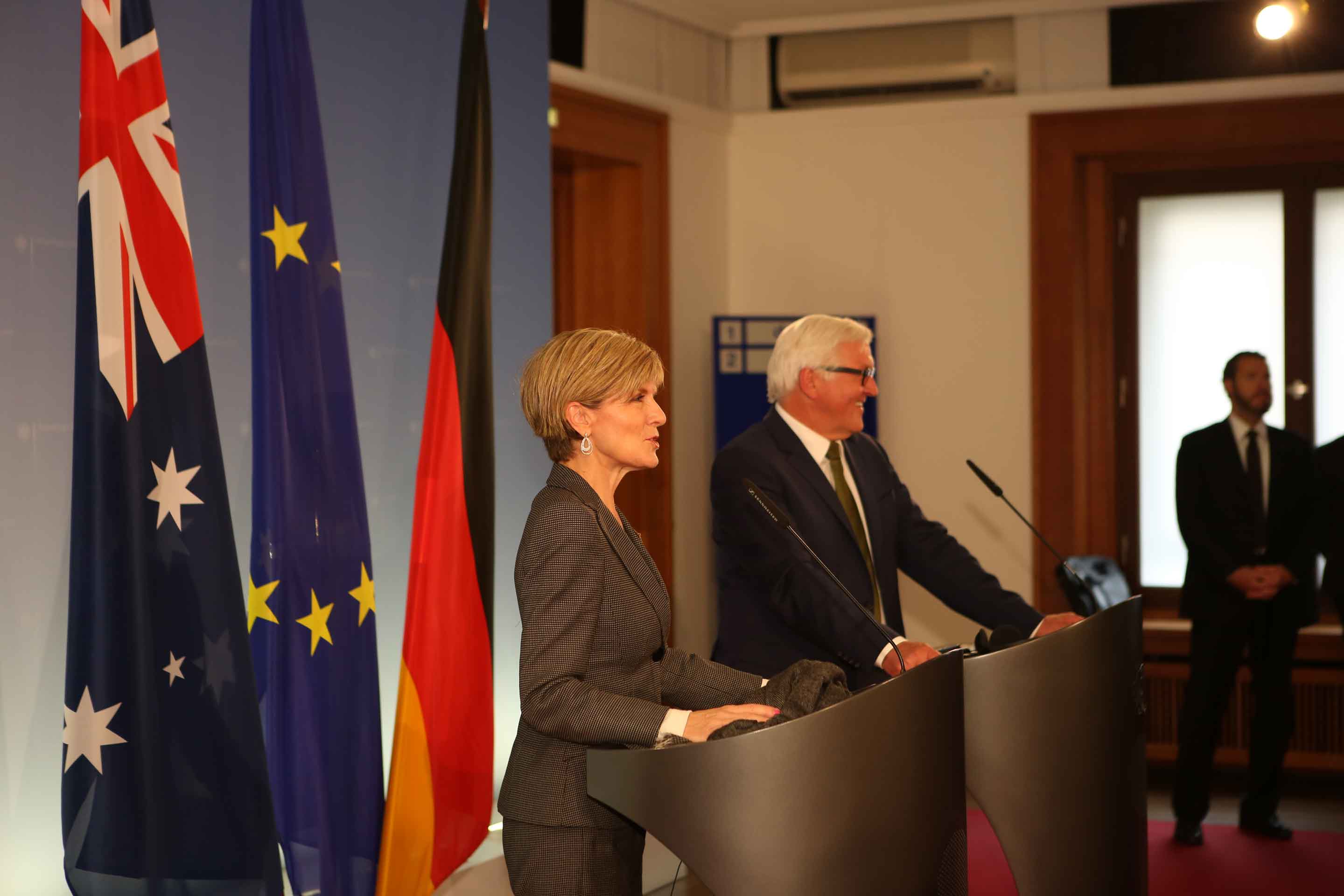 Foreign Minister Julie Bishop with her German counterpart, Frank-Walter Steinmeier at a joint press conference at the Foreign Office in Berlin (© Auswärtiges Amt)
Environment Minister Greg Hunt in Berlin
Australia\'s Federal Minister for the Environment, Mr Greg Hunt MP, visited Berlin on 28 January 2015 for discussions with key German Government representatives on UNESCO related issues and broader environmental developments. Among others, he met the German Minister of State in the Foreign Office, Professor Maria Böhmer, who is also Chairperson of the upcoming 39th session of the UNESCO World Heritage Committee in Bonn.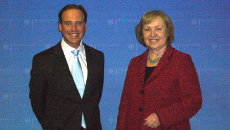 Minister Hunt and German State Minister Böhmer meeting in Berlin (© Auswärtiges Amt)
Bilateral visit by Chancellor Angela Merkel to Sydney, 16/17 November 2014:
Joint Press Conference by Prime Minister Tony Abbott and Federal Chancellor Angela Merkel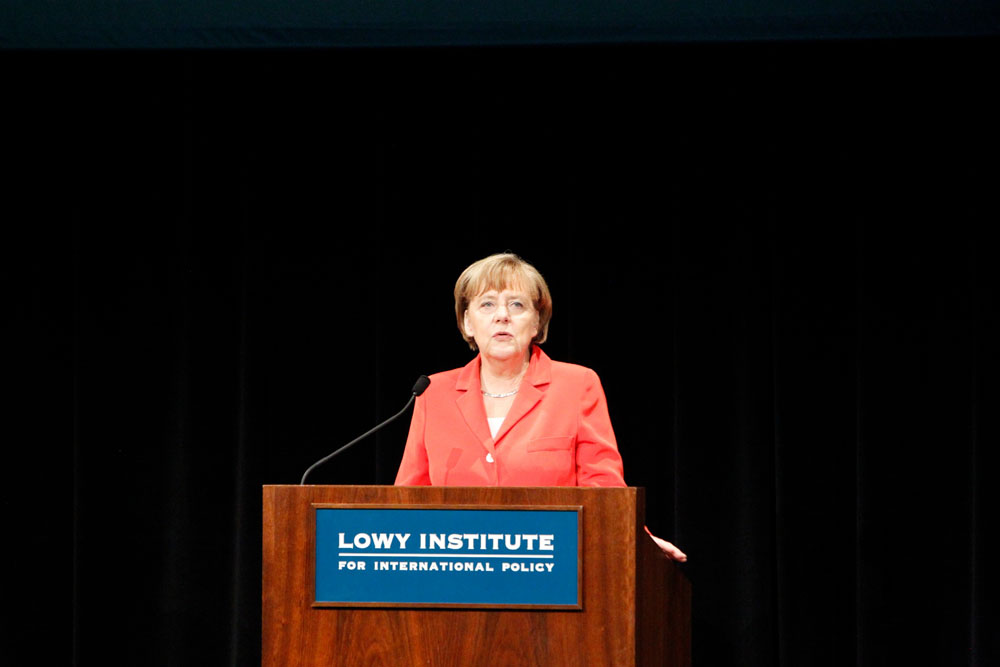 German Federal Chancellor Angela Merkel in Sydney (Photos: Quentin Jones/DPS Auspic)
G20 Summit in Brisbane 15/16 November 2014: G20 Leaders\' Communiqué
G20 Summit in Brisbane 15/16 November 2014: Prime Minister Tony Abbott: "It\'s about real results, not lofty words"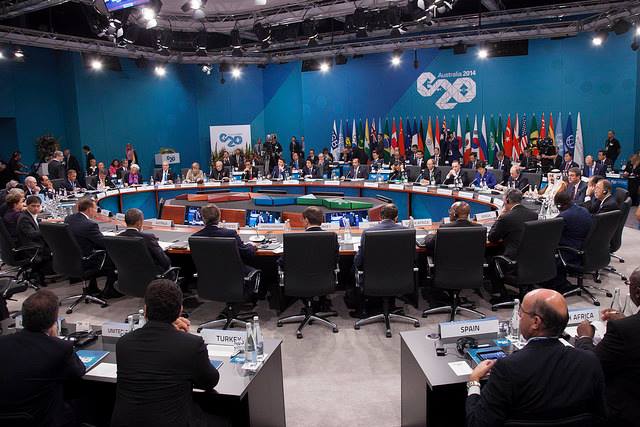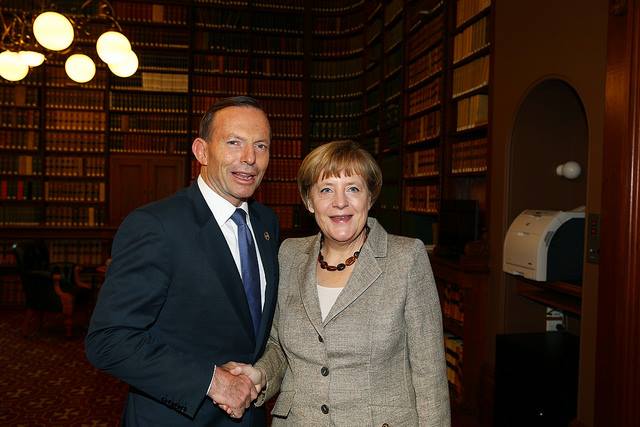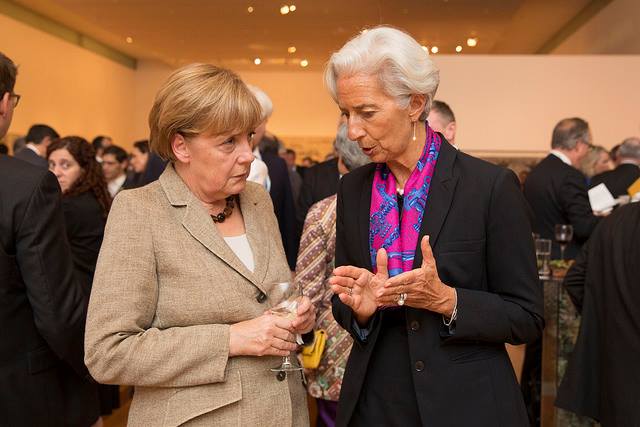 Impressions from the G20 Summit (Pictures: © G20 Australia)
---
Diplomats in the GDR: A look back into history - Radio broadcast of a panel talk in the Australian Embassy
At the invitation of Ambassador Ritchie and the German Foundation for the Reappraisal of the Communist Dictatorship, a panel also including Uruguay Ambassador Alberto Guani Amarilla, US Deputy Head of Mission James Melville and the former head of the Permanent Office of the Federal Republic of Germany in East-Berlin, Hans Otto Bräutigam, discussed their experiences as diplomats working in East Berlin during the times of the GDR. The discussion was presented by Peter Lange, of Deutschlandradio, and will be broadcast on 26 September 2014, 18.07h, on DeutschlandradioKultur.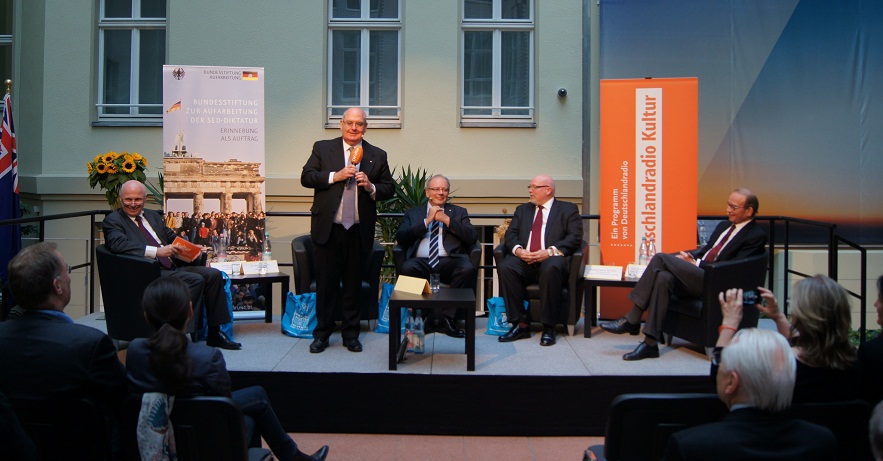 Ambassador Ritchie (3rd from right) with (left to right) James Melville (US Embassy), Peter Lange (Deutschlandradio), Alberto Guani Amarilla (Ambassador of Uruguay), Dr Anna Kaminsky (Director, Stiftung Aufarbeitung/Foundation for the Reappraisal of the Communist Dicatatorship), Markus Meckel (Chairman, Council of the Foundation) and Hans Otto Bräutigam (former head of the Federal German Permanent Office in East Berlin); and welcoming the audience to the panel talk.
---
Current News
For latest news available from the Department of Foreign Affairs and Trade, please see www.dfat.gov.au
Australia signs landmark trade agreement with China
On 17 June 2015, Australia signed a landmark Free Trade Agreement with China, its largest trading partner, with total trade worth almost $160 billion in 2013-14, and a growing source of investment.
The full text of the Agreement is publicly available online at dfat.gov.au/chafta.
Australia pledges A$200 million to the Green Climate Fund
In a joint media statement, Prime Minister Tony Abbott and Foreign Minister Julie Bishop announced that the Australian Government will commit A$200 million over four years to the UN Green Climate Fund.
Environment ministers for talks in Berlin

© BMUB/Sascha Hilgers
On a visit to Berlin on 17 Sept 2014, Australian Federal Environment Minister Greg Hunt (r.) and Queensland Environment Minister Andrew Powell met with Parliamentary State Secretary Rita Schwarzelühr-Sutter of the Ministry for the Environment, Nature Conservation, Building and Nuclear Safety. They also had a meeting with the Minister of State for the Federal Foreign Office, Professor Dr Maria Böhmer, to discuss Australia's plans for a healthier, more resilient Great Barrier Reef.
FIFA World Cup opened in Brasil - Australia\'s Socceroos playing in a group with Chile, the Netherlands, and Spain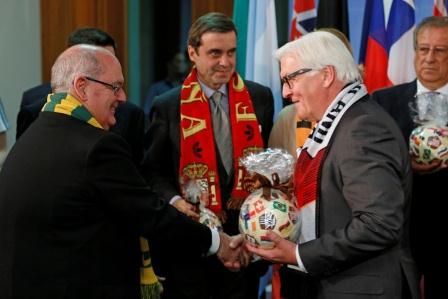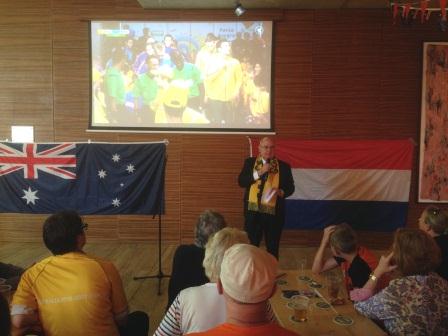 German Foreign Minister Frank-Walter Steinmeier (r.) welcoming Ambassador David Ritchie to a World Cup function at the Foreign Office
(Photo: Thomas Trutschel/Photothek) // Ambassador Ritchie at the Dutch Embassy for the broadcast of the Australia-The Netherlands match
Australia Ratifies the Arms Trade Treaty
The Australian Government ratified the Arms Trade Treaty (ATT) at the United Nations in New York on 3 June 2014. The Arms Trade Treaty will be the first legally binding instrument ever negotiated in the United Nations to esteblish common standards for the international transfer of conventional arms.
Op-ed by Minister for Foreign Affairs, The Hon Julie Bishop MP: "Australia in the front line against arms trafficking"
Australian Trade Minister Robb in Frankfurt
Trade and Investment Minister Andrew Robb is on a visit to Frankfurt on 8 and 9 May 2014 as part of a broader visit to key centres of Europe to pursue Australia\'s ambitious tade and investment agenda. His program in Frankfurt includes meetings with financial industry representatives and a broad range of other business contacts. He will also address Australia\'s G20 agenda.

Minister Robb (centre) in Frankfurt with Consul-General David Campbell, Ambassador David Ritchie, Member of the Board of Management of Robert Bosch GmbH Peter Tyroller and OAV Managing Director Timo Prekop (left to right)
Foreign Minister Bishop in Switzerland
During an official visit to Switzerland on 27 March 2014, Foreign Minister Julie Bishop met with Swiss President and Foreign Minister Didier Burkhalter to discuss security issues and the role of the Organization for Security and Cooperation in Europe. In Geneva she addressed the Conference on Disarmament and met with a number of international organisations.
---
---