Welcome to the Australian Embassy, Berlin

We are deeply saddened and shocked about the attack at Berlin's Breitscheidplatz Christmas market. All of our thoughts are with those affected and their families and we hope for a speedy recovery for all of those injured. We thank the German authorities for their timely and professional response.
If you have any concerns for the welfare of Australian family and friends in Berlin, you should attempt to contact them directly, if you are unable to contact them and still hold concerns for their welfare, you should call the Department of Foreign Affairs and Trade's 24 hour Consular Emergency Centre on 1 300 555 135, or +61 2 6261 3305 (if calling from overseas).

Australia has a warm and significant bilateral relationship with Germany. We have wide-ranging dialogue and cooperation with Germany, which ranks among Australia's leading trading partners. We have a strong and expanding investment relationship. Germany is a major source of foreign direct investment in Australia and one of Australia's largest investment destinations.
Germany has been a significant source of migrants to Australia. Germans and Australians have wide-ranging interest in each other's culture. Australia is one of the most popular overseas destinations for German tourists and students. The Government is keen to expand existing links with Germany, including in traditional and new commercial spheres.
Fifth Australian Landing Pad finds a home in Berlin
Berlin's Betahaus house will be the home of Australia's fifth Landing Pad – a place for Aussie entrepreneurs to launch their startup to the world. With this final Landing Pad established, Australian startups now have the opportunity to access investment capital, networks, mentors and ideas in five key locations across the globe, from San Francisco to Shanghai, Singapore, Tel Aviv and now Berlin.

Inaugural German-Australian 2+2 Ministerial Meeting in Berlin
The Australia-Germany 2+2 Ministerial Meeting, which convened in Berlin on 6 Sept 2016, marks a significant milestone in the bilateral relationship. With the first 2+2 meeting between our countries, Germany and Australia take their Strategic Partnership of the 2013 Berlin-Canberra Declaration to a new level, also building on the work of the Australian-German Advisory Group.
Foreign Minister Julie Bishop and Defence Minister Marise Payne were first officially welcomed by their German counterparts, Ministers Frank-Walter Steinmeier and Ursula von der Leyen, at the German Defence Ministry and then met for their consultation at the German Foreign Office Guest House Villa Borsig (pictures below).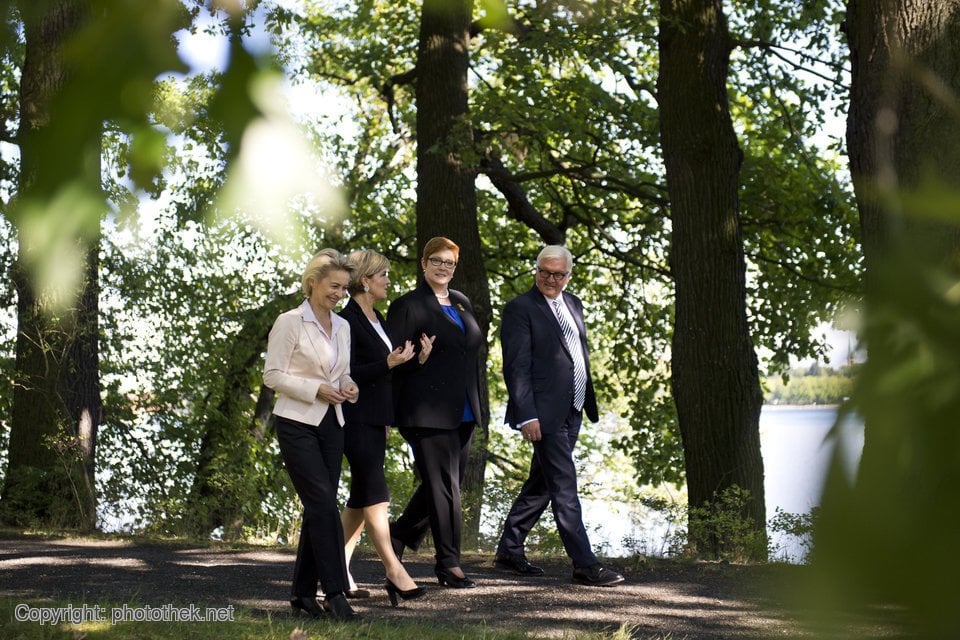 Celebration of Australia in Germany
The Australian Government will host Australia now, a major celebration of Australia's creativity and innovation, in Germany in 2017. Foreign Minister Julie Bishop (pictured below) announced the program on 6 September at a reception held at the Australian Embassy in Berlin.
You studied in Australia? Register with us!
Our Alumni program brings together and supports the interests of Alumni from Australian universities and other institutions of higher education in Australia. If you live in Germany and would like to be invited to future Alumni or other Embassy events, please fill out our
Alumni Registration Form
and send it to
info.berlin@dfat.gov.au
.

Current News
For latest news available from the Department of Foreign Affairs and Trade, please see www.dfat.gov.au